Geographical location:
Colombia, officially known as the Republic of Colombia, is located in the north-western region of South America, between the Pacific Ocean, the Atlantic Ocean, the Amazon rainforest and Panama. It has land borders with Venezuela, Brazil, Peru, Ecuador and Panama.
Capital city:
Bogotá D.C
President:
Iván Duque Márquez.
Form of Government:
Presidential Republic.
Languages:
The official language of the meetings will be Spanish. There will be simultaneous interpretation to English and Portuguese.
Local time:
Standard time UTC/GMT -5 hours
Dialling code:
Colombia (+57) / Bogotá (1) / Cartagena (5)
Electric current:
Colombia's domestic electrical current is 110V AC/60Hz (volts/hz) in all of its territory. Plug adaptors in Colombia have two flat entry pins, or may have an additional third round pin. It is advisable to check the technical instructions for the devices that are to be used in Colombia.
Climate:
In the city of Bogotá, the weather is fairly cool, between 14º and 20ºC on the sunniest days.
Host City - XXII Congress
Cartagena de Indias.
In Cartagena de Indias, the climate is typically tropical, with minimum temperatures around 24° C and a maximum which can reach 30º C.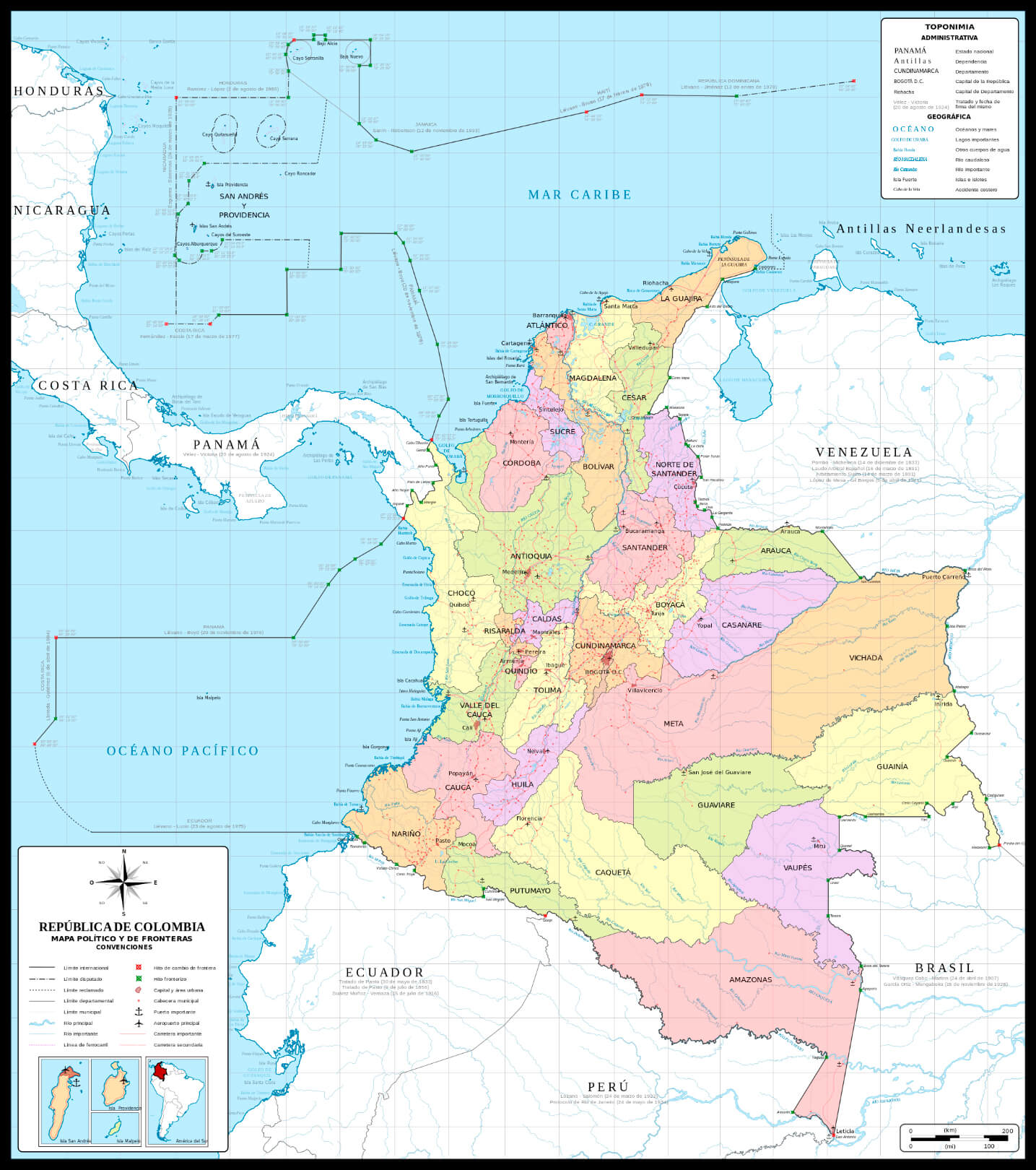 Colombian Institute of Family Welfare
The The Colombian Institute of Family Welfareis a Colombian state agency that works on prevention and on the comprehensive protection of early childhood, childhood and adolescence, as well as the well-being of families in Colombia. It provides care, in particular, to those at risk, suffering neglect or whose rights are being violated and reaches over 8 million Colombians with its programmes, strategies and care services, with 33 regional branches and 213 area centres throughout the country.
It is a decentralized public body, a legal entity with administrative independence and its own assets, established by Law Nº 75 of 1968 and reorganized in accordance with the provisions of Law Nº 7 of 1979 and its Regulatory Decree Nº 2388 of 1979. In accordance with Decree Nº 4156 of 2011, it was assigned to the Administrative Department for Social Prosperity.
In addition, it is the governing body of the National Family Welfare System (SNBF), defined as a set of agents, coordination and harmonization bodies to implement the comprehensive protection of children and strengthen family life at national, departmental, district and municipal levels.
Visas:
Visas and entry requirements: Pursuant to Resolution 10535 of 2018 of the Ministry of Foreign Affairs of the Republic of Colombia, "which stipulates visa waiver provisions and repeals resolutions 1128 and 6397 of 2018", the nationals of the States mentioned below may be authorized to enter without a visa and stay temporarily (90 days) in the country:

Antigua and Barbuda, Argentina, Bahamas, Barbados, Belize, Bolivia, Brazil, Canada, Chile, Costa Rica, Dominica, Dominican Republic, Ecuador, El Salvador, Grenada, Guatemala, Guyana, Honduras, Jamaica, Mexico, Panama, Paraguay, Peru, Saint Kitts and Nevis, Saint Vincent and the Grenadines, Saint Lucia, Suriname, Trinidad and Tobago, United States, Uruguay.
The information requested with regard toobtaining visas for Haitian and Nicaraguan nationals attending the 22nd Pan American Child Congress and 3rd Pan American Child Forum, taking place during the 94th Regular Meeting of the Directing Council of the Inter-American Children's Institute (IIN) of the Organization of American States, to be held in Cartagena from 28, 29 October to 1 November 2019, is included in Appendix 1, as are the Requirements for Courtesy Visa - type V, instructions for courtesy visa applications, and Resolution 10535 on the countries whose nationals do not require visas for this activity in Colombia. In Appendix 2, you will find Contact Information for Embassies in Colombia, of the various countries attending the events.
There are no additional migratory requirements for people under the age of 18 entering the country, other than the general requirements mentioned (a valid passport). Requirements for persons under the age of 18 leaving their countries of origin must be consulted with the relevant authorities in each country. Likewise, there are no additional requirements for people under the age of 18 leaving Colombia, other than the entry requirements (a valid passport).
VACCINATIONS: International travellers arriving from Angola, the Democratic Republic of the Congo, Uganda and Brazil will be required to show an International Certificate of Vaccination showing proof of yellow fever vaccination before they can enter Colombia. All national and international travellers visiting the national natural parks must be vaccinated within the stipulated period (fifteen days before travel).
At the moment, there are no other requirements for entering the country as far as vaccinations are concerned (delegations will be informed in a timely manner of any changes in this regard).
Summary of Visas and other Requirements for Entering the Country
Andean citizens can travel only with the identity document, without the need for a visa or passport, and have preferential channels of entry, as well as common rights against air and land transport companies. In addition, they can live, work, travel, study or do business in another Andean country as if they were in their own.
| COUNTRY | REQUIREMENT |
| --- | --- |
| Antigua and Barbuda, Argentina, Bahamas, Barbados, Belize, Bolivia, Brazil, Canada, Chile, Costa Rica, Dominica, Dominican Republic, Ecuador, El Salvador, Grenada, Guatemala, Guyana, Honduras, Jamaica, Mexico, Panama, Paraguay, Peru, Saint Kitts and Nevis, Saint Vincent and the Grenadines, Saint Lucia, Suriname, Trinidad and Tobago, United States, Uruguay.  (applies to children and adolescents) | Valid passport in good condition |
| Haití, Nicaragua (applies to children and adolescents) | VISA Required (travellers must apply for a Courtesy Visa - type V) |
APPENDIX 1 Requirements for the Courtesy Visa, Type V
Complete the visa application form online.
To start the process and complete the visa application form online, please visit this site: tramitesmre.cancilleria.gov.co/tramites/enlinea/solicitarVisa.xhtml
Make sure your passport is valid, in good condition and with enough free space for visas.
Attach a copy of your passport's main page, which contains your biographical data and photograph.
In the case of Cuban citizens, if your passport was issued more than two years ago, please attach a copy of your passport extension.
Foreigners who apply for a visa while in a State other than that of their nationality must provide a copy of the document which, in accordance with the immigration laws of the country where they are currently located, certifies that their stay in that country is legal, regular or authorized.
Attach a recent, 3x4cm, colour, frontal photograph, with a white background, without wearing accessories and with nothing on your face, as a JPG file, 300 KB maximum. Photographs with shadows or photos taken of your passport photograph will not be accepted, causing your application to be rejected.
Individual documents should be legible, sent as a PDF file and preferably black and white. The maximum size allowed for the total set of documents attached to an application is 5 MB.
Letter of invitation in which the applicant is invited to attend the event.
The courtesy visa is free. However, for the system to register your application, you must conclude the application process by clicking on the payment button ("liquidar pago").
Please carry out your application process well in advance. When your visa has been approved, you will receive an electronic visa that will enable you to enter Colombia.
APPENDIX 2 Contact Information for Embassies in Colombia
| Country | Address | Telephone | Email | Website |
| --- | --- | --- | --- | --- |
| Republic of Argentina | Carrera 11 B No 97-56 P.4 Edificio Ápice – Barrio Chico Norte | (57) (1) 2880900 | [email protected] | https://ecolo.cancilleria.gob.ar/ |
| Plurinational State of Bolivia | Carrera 9 B # 113-37 Barrio Santa Bárbara Central | (57) (1) 6126700 – 6121316 – 7029168 | [email protected] | http://www.embajadaboliviacolombia.org/ |
| Federative Republic of Brazil |  Calle 93 # 14-20 Piso 8 |  (57) (1) 2180800 |  [email protected] |  http://bogota.itamaraty.gov.br/es-es/ |
| Canada |  Carrera 7 # 114-33 Piso 13 |  (57) (1) 6579800/10 – 6579872 / Fax: (57) (1) 6579912 |  [email protected] |  http://www.canadainternational.gc.ca/colombia-colombie/index.aspx?lang=spa |
| Chile |  Calle 100 # 11b-46 |  (57) (1) 7420136 – 7427874 – 7427875 |  [email protected] |  http://chileabroad.gov.cl/colombia/en |
| Costa Rica |  Carrera 12 # 114-37 Barrio Santa Bárbara Central |  (57) (1) 6295072 – 6295095 |  [email protected] |  http://www.embajadadecostarica.org/ |
| Republic of Ecuador |  Calle 89 # 13-07 |  (57) (1) 2126512 |  [email protected] |  http://colombia.embajada.gob.ec/es/ |
| Republic of El Salvador |  Carrera 12 # 119-51 |  (57) (1) 3496765 – 3496771 |  [email protected] | S/I |
| United States of America |  Calle 22d bis # 47-51 |  (57)(1) 2752000 |  [email protected] |   https://co.usembassy.gov/es/ |
| Republic of Guatemala |  Calle 86a # 13-42 Piso 6 |  (57) (1) 2576133 |  [email protected] | S/I |
| Republic of Honduras |  Carrera 12 # 119-52 Barrio Multicentro |  (57) (1) 6293277 – 6293302 – 6209528 |  [email protected] |  https://www.embajadadehonduras.org.co/ |
| Jamaica |  Avenida 19 # 108-45 Oficina 304 |  (57) (1) 6123396 – 6123389 – 6123598 |  [email protected] |  http://jamaicaembassyco.atwebpages.com/ |
| United Mexican States |  Calle 113 # 7-01 Oficina 204 Torre A Edificio |  (57) (1) 7477160 – 6294989 |  [email protected] |  http://embamex.sre.gob.mx/colombia/ |
| Republic of Panama |  Calle 92 # 7a-40 |  (57) (1) 2574452 – 2575068 – 6918919 – 2575067 |  [email protected] |  https://embajadadepanama.com.co/ |
| Republic of Paraguay |  Calle 72 # 10-51 Oficina 1001 |  (57) (1) 2356987 – 2127552 / Fax: (57) (1) 2356324 |  [email protected] |  http://www2.mre.gov.py/index.php/representaciones/embajadas-del-paraguay-en-el-mundo/en-america-del-sur/embapar-colombia |
| Republic of Peru |  Calle 80a # 6-50 |  (57) (1) 7462360 / Fax: (57) (1) 7448871 |  [email protected] |  http://www.embajadadelperu.org.co/ |
| Dominican Republic |  Carrera 18 # 123-43 Santa Bárbara |  (57) (1) 6010023 (57)(1) 7456708 (57)(1) 7456710 |  [email protected] |  http://www.embajadardcolombia.gob.do/ |
| Republic of Haiti |  Carrera 10 # 97a-13 Edificio Bogotá Trade Center P.H. Torre B Oficina 2017 |  (57) (1) 5203716 5200881 5207729 |  [email protected] | S/I |
| Republic of Nicaragua |  Calle 98 # 22-64 Oficinas 204/205 Edificio Calle Cien |  (57) (1) 7036463 (57) (1) 7036450 |  [email protected] | S/I |
| Oriental Republic of Uruguay |  Carrera 9 # 80-15 Piso 11 |  (57) (1) 2352968 – 2351462 |  [email protected] |  http://www.embajadadeuruguay.org/pages/contacto/sur-america/colombia.php |
Individuals from countries without diplomatic representation in Colombia may contact the Colombian Ministry of Foreign Affairs directly, 24/7, through any of the following service channels:
Interactive voice response system - IVR: (+57-1) 3826999
Switchboard: (+57-1) 3814000
Toll-Free Number: 01 8000 938 000